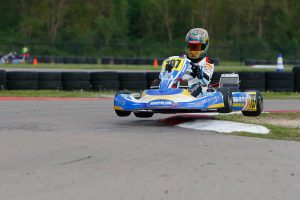 Opening the 2018 Superkarts! USA (SKUSA) Pro Tour at the long and technical NOLA Motorsports Park, Leading Edge Motorsports driver Arias Deukmedjian found his way back on the podium. With several race wins and podiums to his credit in the first two months of the season, the Deuk Spine Institute backed driver was one of the favorites entering the largest national series in North America.
Working with Greg Bell and his Leading Edge Motorsports staff, Deukmedjian looked at home in Friday's unofficial practice sessions as he found his pace early. Closing the day satisfied, the entire team shifted their focus to Saturday morning's qualifying effort and eventual wheel-to-wheel competition.
"I was a little off in both Saturday and Sunday morning's qualifying runs," explained Deukmedjian. "We are still not sure why and we are going to work on the issue more before the next event. It is very hard to win at this level when you qualify outside the top-ten but I managed to be in contention both days."
Saturday's tenth place qualifying effort forced the Merritt Island, Florida resident to be aggressive in the day's prefinal. Battling to the top-five, eventual contact sent him back to 12th before a recovery to cross the stripe in tenth. An outstanding start in the main event and with some smooth and calculated passes, Deukmedjian found his way to third by the tenth circuit. Continuing his march forward, the talented 13-year-old would take the point on lap thirteen, leading five laps to put him in position for the victory. With three laps remaining and involved in a fierce on track battle, Deukmedjian fell back to the fourth position before advancing to P2 and the second step of the podium when the final checkered flag had flown.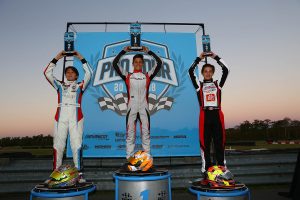 Sunday saw much of the same for the Holy Trinity Episcopal Academy student as he recovered from an 11th place qualifying run to finish second in the prefinal. Feeling good about his chances as he would take the green from the outside of the front row, disaster would strike on the opening lap as Deukmedjian was forced off track and spinning by a fellow competitor. Falling to the tail of the field and P38, the up and coming star proceeded to put on a show.
Deukmedjian added, "Though I always want to win, I had a blast driving forward. I was able to pass 24 karts and claim the fastest lap of the race. It is disappointing that I could not get the win, but it makes me even hungrier for the next one."
Arias Deukmedjian would like to thank Greg Bell and Leading Edge Motorsports, Daniel Woltjer of Woltjer Racing Engines, Suzanne Shriver from Tillitson Carburetors and his mechanic Tiffin Willareth for tireless work throughout the weekend.
Be sure to follow Arias Deukmedjian on Facebook, Twitter and Instagram for updates throughout the event, and a full race report to follow the event. Find him at 'Arias Deukmedjian' or @A_Deukmedjian. For more information on Arias Deukmedjian and his racing program, please contact [email protected]
Photos: On Track Promotions – otp.ca